Defying Mental Illness had a great opportunity to interview Michelle, the founder and owner of Schizophrenic.NYC, a clothing company based in New York that raises awareness of mental illness and homelessness.  Michelle is one inspiring lady, and like many, has a great story to tell.  Grab a coffee, sit back and be motivated with this thought provoking interview.
DMI:  Hi Michelle. It is a great pleasure and honour having us here at Defying Mental Illness (DMI) interviewing you. You are an inspiration. And you are also doing some great inspiring stuff.  Tell us briefly who is Michelle?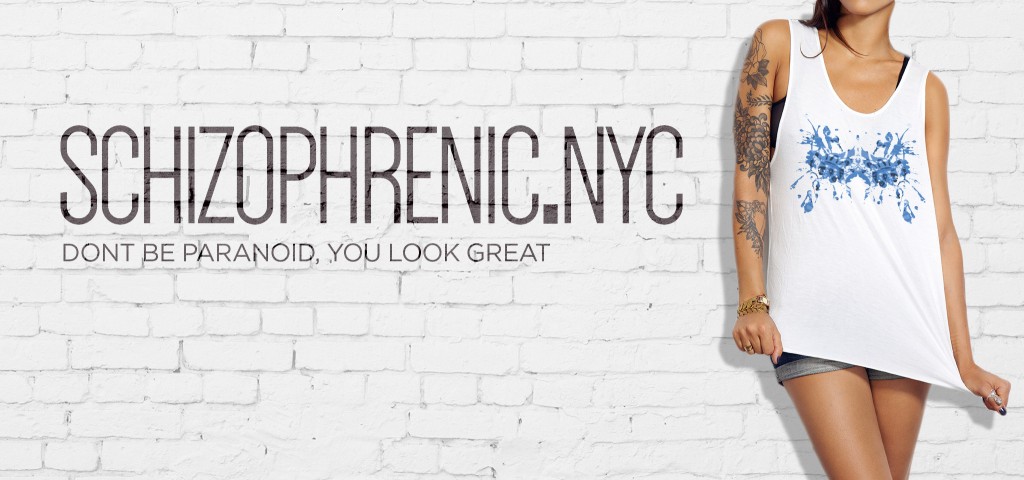 M: Who is Michelle? Let me think. Well, I am the owner, creator, founder and designer of Schizophrenic.NYC. Schizophrenic.NYC is a clothing line a created to change the way New York City (NYC) sees mental illness especially the way NYC views the mentally ill homeless. With Schizophrenic.NYC I am trying to start a movement of discussion and change. Together we can do it. Join the movement.
DMI:  So you are the founder of Schizophrenic.NYC and you are creating a big shout out and awareness about schizophrenia and homelessness. That is pretty impressive stuff. Now, tell us how did this come about? You have a story of your own. Lets hear your story. 
M:  My story starts about 10 years ago.   At 18,  I was diagnosed as bipolar and put on very strong medications.  After about a year I finally found a medication that worked, however I knew that bipolar was not the right diagnosis for me.  
When I was 22, I got a new doctor and was more honest about my symptoms and what I was going through. I then was diagnosed with Schizophrenia.   At first I was pretty bummed out, but as I told my friends about this diagnosis my friends began to tell me that they already knew that about me.   They thought that that is what I truly had the entire time.

 I then realized that if my best friends already knew this about me and didn't care, that I shouldn't care either. Now I am not ashamed to be challenged with Schizophrenia and I don't care what anyone else thinks!   I began to realize that without the help of my family, friends and doctor that I could be homeless.   Because of that, I wanted to do something that could raise awareness and help out with the mentally ill homeless.
DMI:  I find it interesting that you use the term 'Schizophrenic', which in effect is a term that often raises eyebrows because immediately one associates the word with stigma and prejudice. Tell us about the stigma and prejudice of schizophrenia especially as a New Yorker.
M:  In NYC there is a large amount of stigma against Schizophrenia. Unfortunately, it is because of the homeless mentally ill.  Often when passing a homeless person on the street, you can see them talking to themselves, or just plain yelling at no one.  This creates a correlation with Schizophrenia and homelessness. People don't know that there are high functioning Schizophrenics all over NYC.   This is unfortunately their only experience with people with Schizophrenia. Therefore stigma is created.
DMI: Hmm…so that explains the stigma.  People are only seeing one side of the story.  Thanks for straightening things up Michelle.
Now your company reaches out to the homeless people who are challenged with schizophrenia. That are two major complexities. Can you highlight the plight of being homeless and being challenged with schizophrenia? What are the difficulties they face? 
M:  According to the Substance Abuse and Mental Health Services Administration, 20 to 25% of the homeless population in the United States suffers from some form of severe mental illness.  This statistic is far higher than it should be.  For people with Schizophrenia or any other mental illness. it is very hard to get or keep a job. This can lead to homelessness.  Also, being homeless, it is difficult to get the medication that you need or getting any other help in general. 've spoken to people who have told me that they had to go off their meds because they couldn't afford them. I've also seen a homeless man holding a sign that said, "Need Money For Meds."
DMI:  Wow, that is very touching.  It is a serious situation here.  Would you say homelessness can lead to schizophrenia or would you say being challenged with schizophrenia can often lead to homelessness? What are some of the myths that people have about schizophrenia and homelessness?
M:  I would have to say that schizophrenia could lead to homelessness.   When it is hard to keep a job, it is very difficult to afford doctor bills or be able to afford medication.   Also, not everyone has family and friends that can help them.   Some myths about Schizophrenia and homelessness is that all people with Schizophrenia are absolutely nuts and are only homeless.   If the mentally ill homeless population could get better health care we would see a huge reduction in the amount of homeless people in NYC.
DMI:  So better health care is the key!  And with that comes a reduction in homelessness.  Which leads us unto our next question…So you do pretty amazing stuff with Schizophrenic.NYC.  Tell us about the vision of your company and what you do? How have you been able to help people? You do amazing clothing range too. Can you share the message behind these outfits? 

M:  I'm glad you think I'm doing amazing things. My main vision is to reduce the stigma of mental illness in NYC. I take a portion of the profits made and donate to organizations like Fountain House or NAMI NYC who help out with the mentally ill homeless. When I set up my pop up shop and sell the merchandise on the city streets I meet a lot of interesting people. Mostly I talk to a lot of people who have struggled with mental illness themselves, have a family member who has, or have a friend who has. They like the message of no stigma that I am sending. I am starting a discussion by asking people what they see in my versions of the Rorschach test. I only hope that the people I speak to start discussions on their own as well.
DMI:  Tell us a little bit about what Rorschach is please.
M:  Here is some info about the Rorschach test. Might be interesting to  include the definition.
"A type of projective test used in psychoanalysis, in which a standard set of  symmetrical ink blots of different shapes and colors is presented one by one to the subject, who is asked to describe what they suggest or resemble".

Its Origin:
1920s: named after Hermann Rorschach (1884–1922), Swiss psychiatrist.
DMI:  Wow, learnt something new today!  So I get it now with the ink blots on your clothing!  Michelle, that's cool stuff.
What would you like to see changed? How can we change the attitude of people?
M:  Mostly what I want to see changed is people's perceptions of Schizophrenia. When I explain to people that I started this company because I have Schizophrenia, they often seem surprised. I've gotten the "but your so normal." But I often wonder, what is normal? What is the difference between normal and not normal? If people could understand that no one really fits into the "normal" description it is then that attitudes about stigma can change.
DMI:  Food for thought, Michelle.   So where are you now with your own journey?
I think I am in a good place with my own journey. I have great family, friends and a good doctor. Without them I don't know where I would be. I've managed to secure myself an additional job that I have as well as Schizophrenic.NYC.   
DMI:   There are indeed happy endings.  We like hearing those on Defying Mental Illness.  Congrats Michelle.  
Anything else you would like to share?

I wish that people would understand that mental illnesses are actual real illnesses. Not to long ago a woman asked me if I could stop talking to myself If I really wanted to. My answer was "No." Would anyone ever ask a cancer patient if they could stop the spread of their cancer? Would anyone ever ask a person with Epilepsy if they could just stop the seizures from happening if they really wanted to? When people with anxiety are told to just calm down, it doesn't help. When people with depression are told to just be happy, it doesn't help. If the world would understand that mental illness is real then stigma could be reduced exponentially.
DMI:  Thank you Michelle for this amazing interview.  We have learnt so much today.  We would love to have you back with us at DMI again.  All the best in your ventures and keep doing what you are doing!
M:  Thank you
---

Michelle is a 27 year old born and bred New Yorker. She was officially diagnosed with Schizophrenia at age 22, however she has struggled with mental illness her entire life. Michelle founded and owns the company Schizophrenic.NYC, which is a clothing line that sells tanks, tees and prints in order to raise awareness for the mentally ill homeless living in NYC.  The idea behind the designs is that when the unmedicated person with Schizophrenia looks at a basic regular Rorschach test they see it with a whole different perspective. By redesigning the test with new colors and patterns, now everyone looks at the test with a whole new perspective.