Many women around the world have either had an abortion or know someone who has.  At the time of the abortion, it always seems the right thing to do.
The timing is wrong, a baby will get in the way of education, the man has left, shame to the family…the list of reasons are endless and even justifiable, like rape.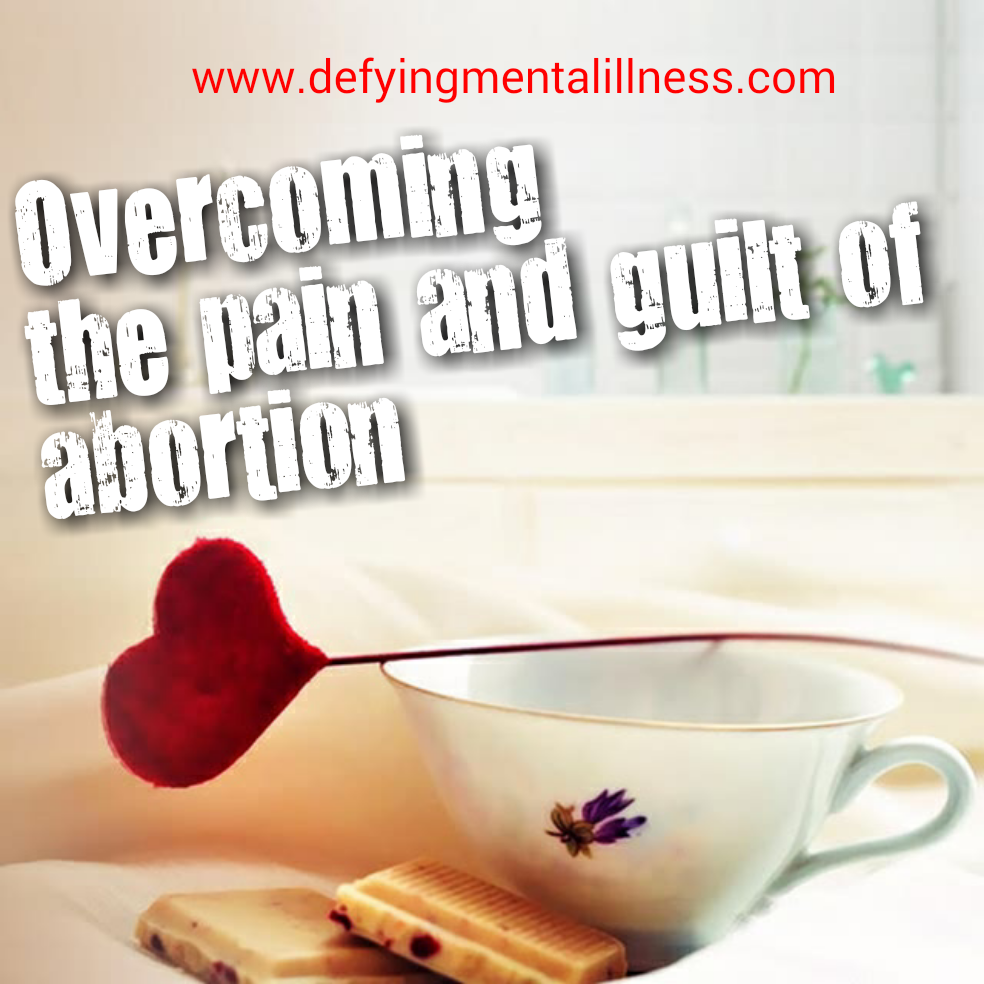 Years later, these ladies are married or even single, with or without children, but the seed of guilt that may have been lying dormant, suddenly resurfaces.  The guilt snowballs and begins to affect the lady in many ways until she gets emotional healing and forgives herself… and learns to receive God's forgiveness too!  
And what about those who carry out abortions?  Some of them may have numbed themselves to the reasons of abortion.  It is the lady's choice.  All they are doing is executing their wish.  Abortion rights campaigners assert that abortion is a person's rights.  That right should not be taken away from them.
I am not here to point fingers, to lay guilt, or to argue about this sometimes heated controversial but important topic.  (Our mandate at Defying Mental Illness is to help people mentally and emotionally.  That said, we are a Christian organization and have Christian principles and foundations).  However, we would like to speak to those ladies who have been through abortion today and are guilt ridden.
And that is why I recommend the novel, Atonement Child by Francine Rivers.  This riveting book will definitely bring healing to those ladies who have had the guilt of abortion buried in their heart for years, even decades.  It will also reach out to professionals who sometimes have a burden of being so called abortionist, but are numbed with insidous guilt.
Dynah, the main lead of the story, has everything going for her.   She is engaged to a fine man who has prospects of one day becoming a preacher.   She is a virgin, brought up in a Christian home and completing her education at a Christian college.  Then one dark night she is raped by a stranger whose face she does not see.
Now, you may think the story gets morbid…but not the way Francine has written it!   Francine opens up old wounds that is often not healed properly in families.  She does this in a kind but candid manner. 
The chances of Dynah getting pregnant are very slim.  But that slim chance becomes an absolute nightmare reality.
Dynah becomes pregnant.  Dynah is now faced with the dilemma of what to do with handling the baby that is growing inside her.    Till then Dynah had maintained that abortion was against her morals.   Her prim and proper parents too had brought her up that way…only to find out that the dark secret of abortion had been running through the veins of the very family for generations from grandmother to mother and now to perhaps Dynah?
Dynah's  situation gets everyone confessing and opening up.   There are rifts, tears, pain…but above all, healing.
This novel has been delicately written with profound compassion and opens up your eyes to see abortion in a balanced Christian way at every angle.   You will see how the Dean of the college handles Dynah when he finds out she is pregnant out of wedlock,  which shows the sensitivity Pastors and those in Christian institutions need to be when the going gets tough! Dynah soon feels almost an outcast on every side.
You will be drawn deep in this novel with each passing page.   I will not spill the beans of this story however further.   There is more issues dealt with like the doctor who has carried out abortions for years…
You will see forgiveness at work in the strangest and most peculiar of ways.
But above all, you find the compelling love of God, smoothing out all the creases, never condemning, forgiving and putting everything straight.  You will come away strongly convinced of the love of God, knowing that even our mistakes never separates from Him. 
You will know that life is never ended but only just beginning.  
You will see the limitless love of God, that our mistakes do not have to cost us God's best!  You will truly understand the meaning of the word g-r-a-c-e.  That grace indeed sets the captive free!
Read this book at your 'peril' if you want to be healed or to get over the grief of abortion.  It is time you wiped away the tears, and look with hope that we don't have to pay for our sin, we don't need to make any atonement for any sin…because Jesus already did it for us.
Happy reading!